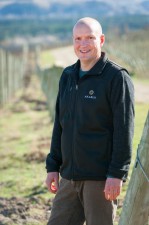 It is with great pleasure that Akarua wines have announced the promotion of Assistant Winemaker Andrew Keenleyside to the position of Winemaker at Akarua.
With seven years of winemaking at Akarua and a total of 14 years spent gaining invaluable experience with a number of key Central Otago wineries, Andrew is the ideal person to continue to shape the proven quality of Akarua wines.
David Skeggs, Managing Director of the Skeggs Group which owns Akarua says, "this appointment is a logical progression for the company. Andrew is ideally suited to provide the continuity to the quality and the style that Akarua is recognised for." 
"Over the past seven years not only has Andrew played an essential role in positioning our Pinot Noir, but he has also expanded his repertoire to include specialised methode traditionelle production by assisting our internationally renowned sparkling wine consultant Dr Tony Jordan. Andrew has experience in such notable regions as California,  Oregon and Alsace which has provided him with the international background to ensure that Akarua remains an ultra-premium producer". 
With a passion for Pinot Noir being a prerequisite for any winemaking role in Central Otago, Andrew has firm views. "Pinot Noir is arguably the most translucent of all red varieties. It is the most fickle, subtle and delicate of red wines to make. The effort that you put in is reflected in the wine quality".
Andrew is relishing the opportunity to develop the portfolio with the two new vineyards that Akarua purchased last year. "It is an absolute privilege to be given this opportunity," he says. "I feel a very close connection to the brand Akarua and its significant reputation. After seven years in the wings my aim as winemaker is to continue to make outstanding wines in the Akarua style – wines that pay homage to the very special plots in which they are grown. It is my role to continue to build on our incredible history and to ensure that Akarua always delivers well above our customer's expectations."