We had a lunch date with family down the way in Los Altos. But first a few more bakeries to check out and the San Francisco Ferry Building Farmer's Market. Saturday was the day to go we'd been repeatedly told.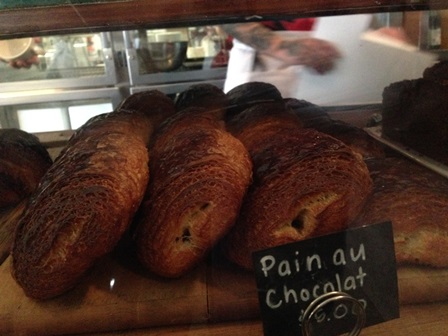 As we set off to retrieve the Chevy Spark parked up a few blocks away (the downside of coming back into the Mission area after dinner on a Friday night), the queue at Tartine seemed manageable. We were at least standing on the café door threshold. 15 minutes later, suitably caramelised pastries resisted, armed with Four Barrel coffees (best coffee experience in America so far we decided) we were on our way through Castro into Hayes to first stop in to Michel Suas' partnership venture B Patisserie.
Belinda his business partner, of the 'B' nomenclature was busy painstakingly arranging fresh fruit on tartlets. We'd ordered a couple of items and found a table, but within a few minutes Belinda was over for a chat baring a few of her favourites for us to try including her version of Kouign Amann. Seven years in the development. It was unfortunate there was only one and I had to share. 'She' doesn't usually eat pastry (well aside from the buckwheat stuff last night). I wonder if 'B' and Michel are going to produce a 'B' book. I NEED that recipe. Like Camino, if you are going to SFO, you need to go to 'B' and try the plain Kouign Amann. And aim to be in a situation where you are not forced to share!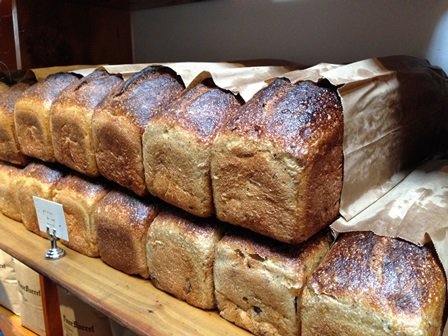 Back down the road a few blocks to the relatively new man on the block. Josey Baker and his joint café/bakery venture with Four Barrel, The Mill. We'd emailed Josey from NZ and were again impressed with the hospitality and willingness of our American hospitality counterparts to make time for us. We were interested in Josey's operation because of his mill and his toast. Yes toast! But before we discuss toast, The Mill is called as much because if one opens a glass door at the end of the toasting bench there is Josey's mill hard at work, all day long milling the grain he uses to bake his bread. And it all happens right there in the café, for all to see. Grinding, mixing, proving, baking…and then the toast.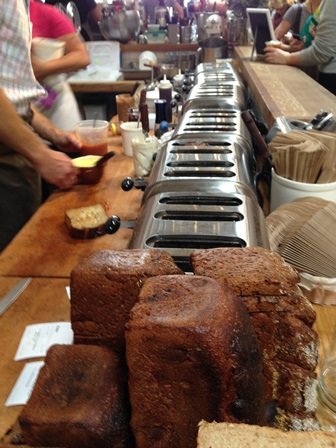 Along one long wooden counter are 6 double toasters lined up. Four or five different loaves of bread, sliced into inch+ thick doorstops, packets of organic butter and a choice of house made 'farmer to pot' fruity preserves. People queue at The Mill for their toast, to have here or to go. The toaster calls your name and you pick it up, toasted, buttered, jammed for you. Phenomenal. Again we left with loot. This time a fresh, still warm rye, a parmesan and pepper loaf and a bag of special griddle cake mix.
Just in time for lunch with friends, the parmesan bread a hot hit, and left over strawberry Kouign Amann care of B, and shortbread from the French Laundry perfect accompaniments to the fresh berry dessert.
Chevy Spark refuelled as well, we headed for Santa Cruz on the coast. A quick stop at Donnelly chocolates and on to our stop for the night in the quaint seaside township of Pacific Grove between Monterey and Carmel. In search of dinner we wandered along to the restaurant wine bar we'd spotted driving in. We weren't expecting dinner this night to be anything to rave about. We were more than pleasantly surprised. Jeninni is a fusion of Californian, Lebanese and Spanish. It had been a long day, I forgot to take photos. The roasted cauliflower was to die for, we almost ordered a second round. The Halibut delicious, the caramelised goats milk dessert quite surprising. Not a dud meal on this trip yet….
Early to bed. A long drive down the coast and into Los Angeles tomorrow.