We had some dates across the Bay bridge in Oakland, but felt it best to forage for a good coffee to fuel the journey as who knew what awaited us on the other side of the bay….Oops that sounds a bit Auckland-like doesn't it! Our host had given us a list of potential coffee houses and roasters which I'll pass on at the end of our San Fran experience…
We decided to make for Tartine round the corner, although we were dubious of our chances given 'she' had passed the queue during her early morning wanderings (read reconnaissance mission) at 7am, before the place had even opened! Sure enough we encountered a queue winding its way down the street….perhaps another time…although apparently there are always queues…
Craftsman and wolves does a fine enough coffee and offers some interesting pastries then over the bridge, a relatively simple navigational task from the Mission. The trick in SFO we were advised is to travel between the hours of 10am and 3pm to avoid the traffic. Once on the other side we eventually found our way under the spidery maze of freeway over and underpasses into the industrial area where Firebrand and Starter bakeries mix, shape and bake 24/7. Again we were amazed by the hospitality and generosity with their precious time these busy bakers extended to these two impromptu Kiwis.
Matt Kreutz who we had been in touch with by email from NZ appeared covered in flour and asked to 'give him just 15 minutes to finish something.' So a couple of doors down at Starter bakery Brian gave us a tour and then took us down another door to see Sam at Roast.com wholesale coffee roasters to share Sam's morning tea which Brian had just delivered. As Brian's Kouign Amann have reached a degree of legendary repute in the Bay area we were delighted to partake and glad about the queue back at Tartine (thinking of our waistlines). It is only a matter of time before these salty, sweet, buttery, flaky, crunchy delights take hold in NZ…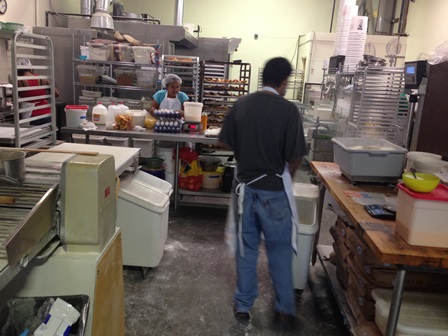 Back to Firebrand. Matt had managed to dust himself off and for a man who having just completed a 13 hour shift through the night and with a batch of paperwork to look forward to was in remarkably good humour. I was particularly interested in Matt's set up as he has one of only two commercially used brick wood fired bakery ovens in the Bay area. He built his 8 x 13 foot interior-hearth sized oven himself. From scratch. This was 6 years ago. Bits and pieces are starting to fall off and he is hoping to upgrade from this almost caveman style of bread production. I have never seen such long peels. All the bread is loaded by hand with these. The skill involved to do this alone is immense. As Matt described, it is sometimes rather like a Charlie Chaplin comedy skit in the small space, as he is loading up to 150 ciabatta or 300 dinner rolls, others in his crew are ducking and dodging the peel handle as they go about their tasks. It's all done using traditional methods and the results are deeply caramelised deliciously crusty and tasty loaves. Branching out into a few pastry items, we left Matt to get on with his paperwork armed with a deep dark rye and a couple of sticky pecan buns…..Who cares about the queue at Tartine or waistlines for that matter!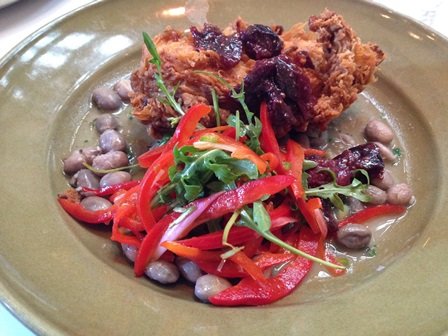 If approaching Chez Panisse from the Oakland end take note that the street numbers go in the opposite direction to those at the Chez Panisse end of the same street in Berkeley. In other words it took a wee while for 'her' normally astute navigational instinct to kick in and realise we were going in the wrong direction. A phone call was required to apologise for our projected lateness…not wanting to lose our lunch spot.
Chez Panisse was a must do visit while in the Bay area. Where the whole farm to table movement and 'defining' of a Californian cuisine began with Alice Waters and her cronies in the 1970's. Although the chances of bumping into the legendary Alice were unlikely we were nonplussed having bumped into her at State Bird last night! Well it was almost bumped – I'd had to hold 'her' down in her seat as Ms Waters came in and was recognised in awe and reverence….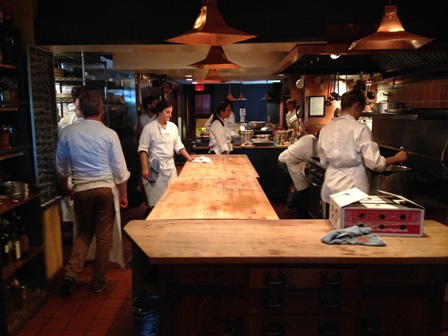 Lunch in the café upstairs was as expected, simple and fresh. We'd chosen the café rather than restaurant to have a choice and hopefully encounter some Panisse specialities, like the chevre salad. Definitely a place to come to experience a slice of culinary history. Maybe next time dinner down in the more intimate restaurant setting, just for the experience, and to watch everything happening in the open kitchen.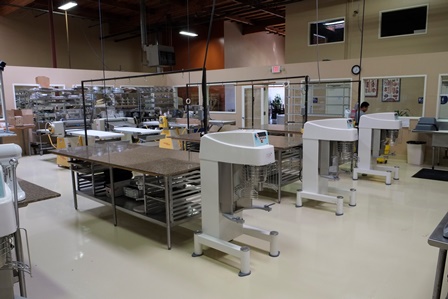 Back over the bridge, chancing the traffic, south of the city to the lauded San Francisco Baking Institute (SFBI for short). Not at all what I'd expected from its exterior. A school in a basic industrial warehouse. But once inside, and a personal tour by the director himself, Michel Suas, 'she' again in total adulation, having already requisitioned my copy of his text, and busy plotting a strategy for future attendance at this very well rigged out training establishment. The school offers both immersion style short courses and opportunities for some lucky students (their own or equivalent graduates) to undertake 6-month internships. Oh yes I see the mortgage is yet again in serious danger…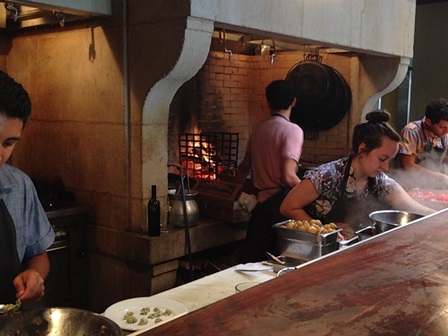 Then it was back into town and over the bridge (in traffic) to Oakland again to Camino, a restaurant we were told was a must go to by the folk at Ned Ludd's in Portland. The thought of traffic had almost deterred us but having the luxury of retrospect it was more than worth the effort. Russell Moore the chef/owner of Camino had a 21 year Chez Panisse pedigree. In 2008 he opened his open fire kitchen restaurant. This is definitely a place to visit. Three grills as well as a wood oven in a huge specifically built hearth area centre back of the restaurant, two long redwood communal tables, seating perhaps 20 each side and several shorter versions between.
The food tastes as only food cooked on fire can. Wonderful. So hard to decide what to eat. And once again extremely hospitable staff brought out a complementary plate of the fire cooked squid as they had heard my conundrums between that and the anchovies. The desserts were also a revelation. The sesame pannacotta with huckleberries delicious, but the star was the buckwheat pastry apricot tart with honey ice cream. Chef has a beehive on the restaurant roof. 'She' usually leaves me the pastry and I her the fruit. We almost had a domestic incident over this, neither willing to adhere to afore said unspoken rule.
If you go to San Francisco go to Camino. Just make sure you go before the traffic starts to get really nasty (just before 5pm to be there for 6pm).