After a morning spent catching up with an old friend we cheated and took a taxi across the bridge for a lunch stop at one of the vegetarian restaurants that are increasingly popular on the Vancouver food scene. Heirloom. Light and airy environment and simply good fresh food. Unfortunately we have run out of evenings to check out The Parker which is winning some of the top awards in Vancouver, fine dining veggie style.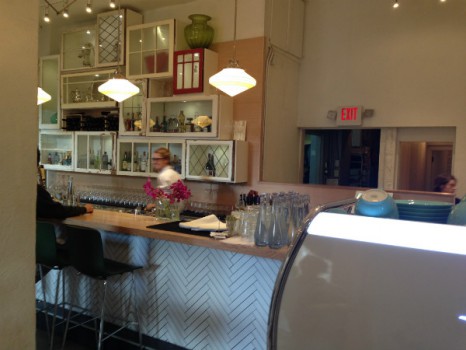 Despite the note made to self yesterday, had again forgotten to bring the manbag. The drops were even bigger today! A change out of damp clothes a bit more follow up research then back over the bridge for the last supper….The Farmer's Apprentice, for their Sunday night guest chef we'll feed you 5 courses of whatever we want to….2 seats at the bar watching the action in the minute kitchen, no gas, sometimes they fire up a BBQ outside….more freshness than ever if that is even possible. Simple and delicious.
Two out front, three in the kitchen plus the dishwasher, and the chefs popping out now and again to help serve. 30 seated inside, 10 more out in good weather and they'll turn it over 2 and a half times. We had tried booking online but couldn't get in for 8 weeks. I called and was told to be there by 5.30pm to catch a seat at the bar. They keep a few places open for their local regulars, so we got lucky.
We got there early, went for a wander and were back just after 5.30pm and it was filling up….Fresh seafood and roast chook but yet again evidence that veggies are becoming the stars. My only complaint…she really was not keen on sharing the fresh berries with orange blossom sabayon…