24 hours in Vancouver, 4 restaurants researched, 1 twice, more booked, so far so good…so good the running shoes are prepped for tomorrow morning…
Pigs fly very well actually, we know this for a fact as we have been to The Flying Pig twice already. I think we can safely call it our local and we will be back for brunch and least another happy hour. Our first experience of Canadian hospitality and great, fresh honest food. Damn I wish we could get Halibut in NZ! And I am going to have to try a version of that maple sugar pie…
A first breakfast at Medina. Opens at 8am, for coffee and waffles. Best waffles in Vancouver according to locals. A decidedly tasty yeast based version. Breakfast orders from 9am, by which time the place is full and people are queueing at the door. They are moving location in August, one assumes to a larger venue. We chose the tagine and fricassée but need to return Monday to check the cassoulet…and more waffles and maple syrup…our last morning in Canada after all.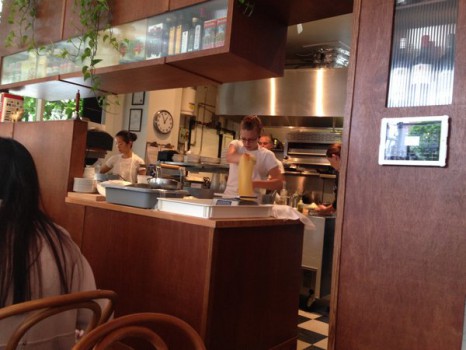 A couple of hours later a last table for dinner booked, we are directed down the road to Ask for Luigi for lunch. A tiny Italian newcomer to the Vancouver food scene. Mounds of fresh pasta being rolled, tender upon our plates and red wine in small glass tumblers, just like Italy. The bill arrived along with a business postcard…hold on! Is that the pannacotta? More research… suitable wobble and lushness, followed by an adjusted bill.
Post prandial wanderings about Gastown, a stop at David's tea shop to stock up on some pepperminty digestive tonics and back to our view on the 27th floor and a rest before the next round. Recommended restaurants booked the next two nights and back to The Flying Pig to catch the end of happy hour. Dark and stormy (house made gingerbeer and rum) along with a platter of beet and bresaola.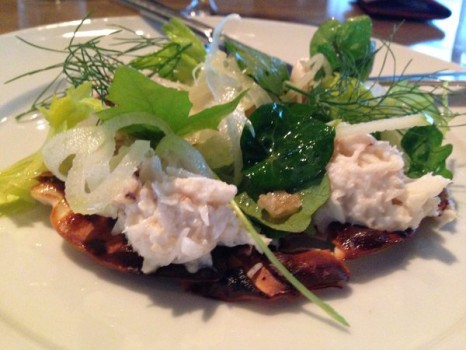 L'abattoir for dinner was the highlight to end the day. 8 chefs had been in the kitchen prepping when we popped in to book at 11.30am. All still there. They seat 66 but will do 160. The fridge space is minimal. They do it fresh, the deliveries still arriving at 3 and 4pm. It's obvious, you see and taste it in every dish. Freshness fine dining style. She had the halibut this time. Damn I wish we could get it in NZ. Only one day and already I have enough ideas for at least half my West Coast inspired degustation….