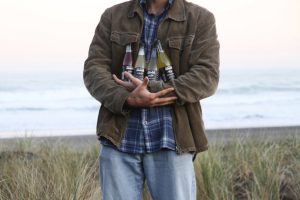 This, alongside a new brand name, are two evolutions for the company this year.
Evolving the beverage collection from its original name of Ahi Kā Tonics, the company has made a shift to emphasize the brand's origins. That is, its birthplace on Great Barrier Island, the Māori name for which is Aotea. Aotea Tonics founder Tama Toki grew up on the island, and it is here that the native ingredients for the drinks are harvested.
The tonics are a culmination of traditional Māori herbal remedies, and the company is fueled by Tama's aspirations to create sustainable business opportunities for residents on the island. "The Māori traditions of brewing herbal tonics to cure ailments have formed the basis of our four recipes," says Tama. "However it's the desire to create sustainable business opportunities for whānau that drives us and makes us truly passionate about what we do.
"Ingredients such as kawakawa and horopito are picked from the bush on the island, and the mānuka honey comes straight from Dad's hives, which we're pretty stoked with."
And after a successful year under the brand's belt, Tama and the Aotea team decided to take steps towards highlighting the wellness qualities of each drink.
Alongside the key native flora – kawakawa, horopito, kūmarahou and tea tree – the recipes now include more recognisable herbs such as peppermint, ginger and liquorice root. These contemporary ingredients compliment and enhance the health and wellbeing qualities of the native ingredients.
The Aotea collection includes four flavours, each created with its own wellness attributes in mind. Kawakawa, designed to soothe the stomach; Tea Tree, brewed to clear the head and bring clarity; Horopito, to help de-stress; and lastly Kūmarahou, Aotea's original wellness tonic.
Each tonic is made with a homemade touch. That is, by brewing the real herbs, leaves, roots, adding a twist of fresh citrus, and about one teaspoon of mānuka honey to each. They're free from fake flavours, concentrates, preservatives and processed sugars, and can be enjoyed hot or cold.
Aotea Tonics are available to customers throughout New Zealand. To find the nearest stockist visit www.aoteatonics.co.nz/stockists.