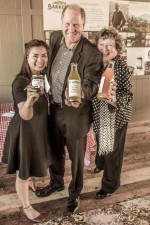 Despite growing up cooking over an open flame, Dianne McDonald's culinary skills have earned her the title of Barker's 2015 Recipe Developer/Foodie.
The mother of two from Dunedin grew up in the Philippines where the family stove was an open fire. It was only when she moved to New Zealand in 2011 that she learnt how to cook using an oven.
Now, after a nationwide search, she has been crowned with the Barker's title, which was announced at a special event in Auckland today.
Dianne's winning entry was a Whole Baked Blue Cod using Barker's Red Pepper and Chilli Jelly – simply delicious.
"I grew up eating fish and learned how to cook them at a very young age. I was also taught how to cook in a fire since we couldn't afford a gas stove. I only started using an oven when I came to New Zealand and my husband taught me how to use it baking cookies and cakes. Since then I have challenged myself making desserts and treats for him such as Kiwi favourites like pavlovas, sponge rolls and cakes, using my favourite Barker's product, the Passionfruit Curd," says Dianne.
Michael Barker from Barker's of Geraldine says: "We were very impressed with Dianne's entry and were delighted with her simple and fresh approach. She has a beautiful story to tell and is very family-focused which felt like the perfect fit for the Barker's family. We are looking forward to working with her over the next 12 months and tasting all her delicious creations."
The judges, food photographer Tamara West and food writer Annabelle White, were particularly impressed with Dianne's photography skills and use of fresh ingredients that make her photos mouth-watering.
"I am so excited to make new dishes that are humble yet classy and tasty at the same time," says Dianne. "I'm looking forward to working with the delicate flavours of Barker's products and showcasing my ability to create beautiful dishes and share this with other passionate, like-minded people. And using social media means there are no geographic barriers."
"The first time after having kids, I'm excited to follow my foodie dreams and it's the perfect fit for me. I just love food and watching how it brings families together."
The countrywide quest asked food lovers to create their spin on a classic recipe using Barker's products. The prize is a 12-month recipe development contract to create delicious recipes using Barker's products, a trip to the Barker family farm in Geraldine, a one-on-one recipe development and food styling workshop with Annabelle White, plus a Barker's pantry starter pack. The total package is worth more than $7,500.
"To be able to work with Annabelle White is a dream come true. I've watched her on TV and it's such an honour to be able to do a workshop with her. I feel very lucky", says Dianne.
Earlier this month, Dianne, Bex Savage from Rolleston, Jess Goodwin from Christchurch and Farzana Rashid from Auckland were announced as finalists.