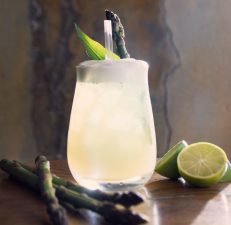 Auckland's Café Hanoi has added a new asparagus-inspired cocktail, Scent of Spring, to their drinks menu, to celebrate New Zealand's love affair with the vegetable.
By infusing asparagus into a blanco tequila, Scent of Spring marries the liquor's clean, spicy and earthy notes with the vegetable's crispness. A margarita-style beverage, it's a blend of dry vermouth, agave syrup, aquafaba and lime juice, paired with Vietnamese mint to add a spicy kick.
Aquafaba, the brine from legumes, is a rarely used by-product which gives the tipple a velvety texture, balancing the fiery mint and fragrant asparagus.
Mixologist Dan Sullivan created the cocktail to complement the clean-yet-spicy flavours of Café Hanoi's authentic Vietnamese cuisine.
Scent of Spring is available at Café Hanoi until the end of December.
#cafehanoi #scentofspring