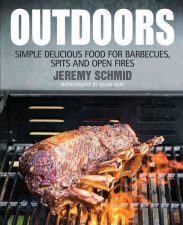 New Zealand's relaxed and casual lifestyle means we love socialising and entertaining outdoors, and food cooked outdoors in the company of good friends always somehow tastes better.
In his third book, Outdoors: Simple delicious food for barbecues, spits and open fires, Jeremy Schmid offers techniques and recipe ideas to help you create the delicious aromas and tantalising tastes produced by cooking on a barbecue, over a fire, or slow-cooking on a spit.
Jeremy's own introduction to outdoor cooking, as a child, was on a basic home-built, brick, wood-fired barbecue, and he's retained an uncomplicated approach, so that you can enjoy effortless food preparation and presentation.
The recipes in Outdoors, accompanied by Devin Hart's appetizing photographs, are grouped in chapters depending on which ingredient has the main focus, whether it's various cuts of meat, poultry, fish and seafood or vegetables. There are also plenty of recipes for rubs, brines, marinades and condiments, and of course salads and desserts.
Many of the recipes are suitable to be made at home and prepacked, then transported for the occasion, whether it's just out to the backyard, off to a picnic, or even to the races.
In addition to information on the various cooking appliances and implements, Jeremy also describes how to build a traditional spit roast, the perfect way to entertain a large gathering.
Schmid worked as a chef in New Zealand and Europe before studying at the prestigious Culinary Institute of America, with particular emphasis on charcuterie. He is owner and chef at The Officers Mess, a coastal functions venue on Auckland's North Shore. His first book
Bangers to Bacon placed third in the Gourmand World Cookbook Awards and his second book, Smoked is published by New Holland.
"Gone are the days of throwing a packet of basic sausages or steak on the 'barbie' with an attitude that 'near enough is good enough'," says Schmid. "Nowadays, we want style, flavour and expert presentation. You just can't beat the smoky atmosphere, sizzling sounds and delicious smells of outdoor cooking as a drawcard."