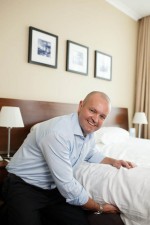 Choice Hotels Australasia has rolled up its collective sleeves ahead of National Customer Service Week to launch its second annual 'Head Office to Front Office' campaign.
Designed as part of a continued focus on enhancing customer experience, New Zealand's largest mid-market hotel franchisor will send its entire corporate team to spend a day in a hotel operator's shoes.
Timed to coincide with International Customer Service Week running 6-10 October, the concept was developed to provide the Choice Hotels team with a greater understanding and appreciation of the day-to-day activities and challenges facing a hotel today.
"Last year's 'Head Office to Front Office' initiative was embraced by all staff members across the business and we're delighted to announce its return again this year. Customer service is something we continually strive to improve upon and we hope this program continues to inspire and motivate all Choice Hotels staff to roll up their sleeves and get involved, Choice Hotels Australasia's CEO Trent Fraser said.
"Providing the head office team with the opportunity to gain invaluable on-the-job insights into daily hotel operations is something that has proved popular with staff. Whether it's working the front desk, lending a hand to housekeeping or taking orders from the bar, office based staff have been keen to get involved and get their hands dirty."
The campaign will see more than 60 corporate staff visit more than 40 hotels across New Zealand and Australia throughout the entirety of the initiative with Peter Doherty, Senior Sales Manager for New Zealand heading for the Quality Hotel Hamilton to help out with some maintenance, painting, housekeeping and the hope of helping out at the bar near the end of his eight hour shift.
"I'm looking forward to my time at the Quality Hotel Hamilton and lending a hand when and where I can. For our business to further succeed we need to better understand our customers and our franchisees. Getting back into hotels at an operational level helps us support our franchisees, learn from them and experience first-hand the challenges they face within the industry," said Doherty.
Head Office to Front Office' will kick off this week, with several Choice Hotels team members heading off to hotels across New Zealand and Australia, offering their services for an eight hour shift working in operational areas including housekeeping, restaurant, kitchen and front office.