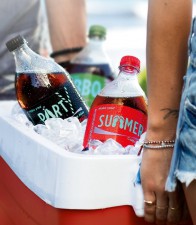 Coca-Cola New Zealand has today announced the next phase of its Coke Come Alive campaign, focused on capturing the voice and attention of consumers over the summer months, introducing the brand to new customers and engaging with existing Coke loyalists.
The Coke Come Alive campaign will turn up the heat with the launch of another major Coca-Cola innovation – colour-changing packaging that makes the products themselves 'come alive' with colour. The temperature-controlled designs feature on most packaging variants, including 300ml limited edition cans, 600ml, 1.5L and 2.25L bottles. The packaging will be transformed with colour when it is chilled to the optimal temperature to enjoy.
The new packaging is part of summer push that is estimated to reach over 88% of New Zealanders, with a major national integrated campaign and is an evolution of the award winning #colouryoursummer campaign. Back this year will be image recognition technology which will allow New Zealanders to use their Coca-Cola products to unlock unique experiences.
Consumers will be able take a snap of their Coke products, when they have come alive with colour, and win unique experiences, content and more. This year the image recognition technology will be able to recognise 'Come Alive' colour packs across the entire trademark – Coke, Diet Coke, Coke Zero and Coke Life, as well as recognise packs that feature in campaign advertising.
High-impact outdoor advertising will drive campaign awareness with locations strategically selected aligned to youth hotspots. There will also be a suite of Coke Come Alive point-of-sale materials available in stores across the country with youth- centric items enabling the brand to increase its connection to the market.
Delina Shields, Group Marketing Manager, Coca-Cola New Zealand said, "We are delighted to be able to excite our customers with innovative and interactive cans this summer. We anticipate that this campaign will generate excitement about the Coke brand over the summer months."
"As well as launching another Coke-first to the market, in the form of our remarkable colour-changing packaging, we are delighted to be able to reward our loyal customers with fun prizes for them. We look forward to seeing our strategy come alive over the coming months and sparking conversation among both existing and new consumers."