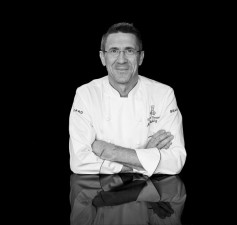 Sydney's The Rocks continues to shine as a foodie heaven with French-born Jean Michel Raynaud from La Renaissance Pâtisserie and Cafe becoming the first patisserie in the Southern Hemisphere to be officially inducted into the prestigious Relais Desserts – the world's most exclusive French Pâtisserie association.
Sydney Harbour Foreshore Authority CEO Catherine Gallagher said it was no surprise The Rocks is home to a Sydney food institution like La Renaissance as the Government is curating the retail mix to entice lovers of fine food and quality products with a unique point of difference, that is transforming the precinct into a sought after destination.
"We are absolutely thrilled for Jean Michel and especially pleased Sydneysiders and visitors alike will be able to enjoy accessible world class food, whether it is grabbing a takeaway pie or baguette and sitting by the Harbour or enjoying a coffee and dessert in La Ren's historic walled garden courtyard."

Relais Desserts is the pâtisserie equivalent of receiving a Michelin Star. However, whilst Michelin Stars have independent judging and the stars are awarded, Relais Desserts is invitation only, with chefs required to be sponsored by two Relais members and assessed by their peers. It is renowned for its rigorous selection process.
Formed over 30 years ago in France, the Association recognises the best in the profession of French pâtissiers. Currently there are only 80 members world-wide, the majority of whom are French or French trained. From the 'Picasso of Pastry' himself, Pierre Hermé, to other legends of the craft including Sadaharu Aoki, Paco Torreblanca and Frédéric Cassel, Relais Desserts unites the world pastry elite.
Relais' aim is simple: to celebrate the art of French pâtisserie and to make it radiate to the four corners of the globe.
Members gather twice yearly to share their expertise, collaborate, and exchange ideas. As a new member, Jean Michel will travel to France to demonstrate his work to the alumni.
Jean Michel's delectable centerpiece is a pièces montées inspired by the legendary French chef, Marie Antoine Carême. It features cake tiers covered completely in seamless gold leaf, exquisite piping and hand-shaped, textured flowers. Next is his signature dessert, created with quintessentially Australian flavors: a gateau of lemon myrtle, aniseed myrtle and rosella (wild hibiscus). He then finishes with an intricate chocolate bar.
"In the continual quest for self-improvement, this is one of the main benefits of membership," says Jean Michel.
"I'm thrilled to take Australian native ingredients over to France and share the sweetest parts of the Australian food industry with other members. I hope this will cement our food on the international pâtisserie map."
Australians with a sweet tooth can look forward to it being Jean Michel's and The Rocks' turn to host the best international pastry chefs in the world for a prestigious Relais Desserts conference.