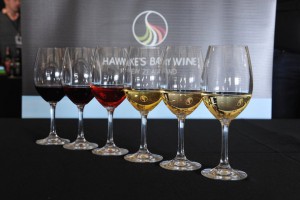 Hawke's Bay is cementing itself as the fine wine region of New Zealand, with its latest success in a high-calibre competition.
The region's powerful line-up of champion trophies was bolstered this week with another supreme award – the Royal Easter Show's coveted Champion Wine of the Show going to Villa Maria Reserve Hawke's Bay Chardonnay 2014.
The trophy is the latest in a string of highly-coveted accolades:
The Esk Valley Winemakers Reserve Chardonnay 2013 took out the Special Trophy for Champion Wine at the 2015 Spiegelau International Wine Competition
The Church Road McDonald Series Syrah 2013 was named the 2015 Air New Zealand Wine Awards
In November Villa Maria's Reserve Gimblett Gravels Hawke's Bay Cabernet Sauvignon Merlot 2013, produced from grapes grown on the Vidal Vineyard by Phil Holden, was awarded the Richard Smart Trophy – Champion Domaine Wine at New Zealand Winegrowers' Romeo Bragato Awards.
"The Royal Easter Show marks the completion of the awards calendar and the Hawke's Bay region has ended the year with the highest accolade in four major competitions," Michael Henley, chairman of the Hawke's Bay Winegrowers Association, says.
Among the 21 gold medals bestowed on Hawke's Bay wines at the Royal Easter Show Awards, 11 were for reds – Syrah, Cabernet Sauvignon and Cabernet predominant blends, and Merlot and Merlot predominant blends – and 5 for Chardonnay.
New Zealand's oldest national wine competition awarded the Heritage Rose Bowl – for wine that excels for three vintages over 10 years – to Newton Forrest for Cornerstone 2013, 2006 and 2006. This Cabernet-Merlot-Malbec blend was recognised for its cellar qualities, as a wine that grows in grace and complexity.
"We are definitely building a powerful reputation for award-winning wines, especially our reds and chardonnays," Henley says.
"The region deserves to be proud of our wine pedigree, we are one of the oldest wine-growing areas of the country and we lead the way of the future too."
Hawke's Bay is home to New Zealand's Young Winemaker of the Year Lauren Young (Ashridge Wines) and Young Viticulturist and Young Horticulturist of the Year Caleb Dennis (Craggy Range).
The award line-up coincides with Hawke's Bay winemaker Kate Radburnd being made a Fellow of New Zealand Winegrowers, an acknowledgement of her outstanding contribution to the industry.