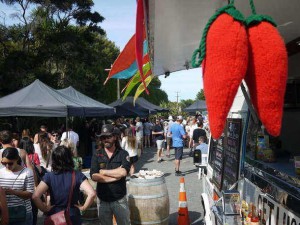 On Saturday 14 March, Hallertau brewery in Auckland will turn up the heat for the fourth annual Hallertau Chilli and Hop Festival.
A range of local and international hoppy beers will be poured, along with entries into a homebrew chilli beer challenge to be judged by Hallertau head brewer, Steve Plowman.
Home brewers will not be alone in the hot seat however, with the Auckland heat (pun inevitable) of the 2015 Chilli Eating Champs taking place at the boutique brew bar on the same day.
Up to 15 contestants will have a go at beating national champion William 'Chilli Willie' Austin's 2014 results: eating several of the world's hottest chilli, the Carolina Reaper, which measures two million scovilles on the heat scale.
"Chilli eating is the perfect spectator sport, so come along and enjoy the competition with tasty beer, local wines, good eats from the Lucky Taco truck, and some summer time tunes," said Steve.
There will also be live music with MC Slave, a chilli market, homemade pickle and sauce competition, Thomson Whisky tasting and Hallertau's outdoor children's playground is on offer.
Happening Saturday 14 March from 2pm – 8pm at Hallertau Brew Bar, 1171 Coatesville Riverhead Highway, Riverhead, Auckland. Admission is $30 and includes a souvenir glass with a free first fill. Tickets available at www.eventfinder.co.nz