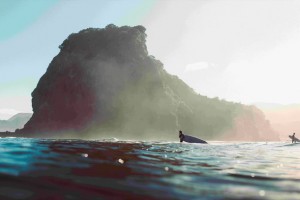 Fresh from being displayed at the Corona Extra curated 'NZ Perspectives' exhibition at Piha Surf Life Saving Club (PSLSC), 10 framed breath-taking coastal prints taken from all over New Zealand by globally recognised photographers are now up for auction – with all proceeds raised being donated back to the Club.
Currently fundraising for a major redevelopment of their facilities, PSLSC has been exhibiting 'NZ Perspectives' since January, while at the same time providing visitors with an opportunity to take in some of the most stunning views and sunsets.
Each of the framed prints is on Trade Me under 10 separate listings with a starting price of just $1, so people can bid for their favourite. Photographer include Derek Henderson, Chris Burkard, Morgan Maassen, Chris Searl, Skip James, Rambo Estrada, Richard Hodder (who created the image above), Scott Sinton, Jeremy Aubertin and CPL.
Corona has also been running a temporary deck and pop-up bar at the front of the Club, with all profits raised from drink sales being contributed to the fundraising efforts. The deck remains open from 4.30pm to sunset, every Friday, Saturday and Sunday until 1st March.
Stephanie Scard, from Corona, says: "Piha Surf Life Saving Club is a community hub with a heart, helping not just those living in Piha and the surrounding areas, but visitors from across New Zealand as well as tourists from around the world."
"As one of the most iconic surf beaches in New Zealand, the fundraising drive for the PSLSC was something that sat close to the hearts of many of the photographers involved in the project."
"We hope the money raised from the pop-up bar and 'NZ Perspectives' auction will provide the club with a great start to raising the funds it needs to carry out the work required, so they can continue to saving the lives of many in the future."
You can view and bid for the photography by visiting: http://trade.me/nzperspectives