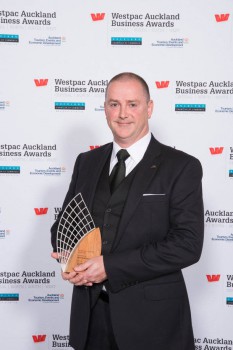 The five-property Australasian accommodation business Sudima Hotel Group has cause to celebrate, again – this time, adding 'winner' to its list of accolades, at the recent Westpac Auckland Business Awards – South final event.
Sudima Auckland Airport was named a finalist in both the Best Emerging Business category and the Excellence in Leadership categories of the Westpac Auckland Business Awards – South, the latter highlighting the performance of the group's director of operations Les Morgan, in his then role as general manager, Sudima Auckland Airport.
At the final event, Les Morgan was announced as the winner of the Excellence in Leadership category, to which he says is an honour bestowed upon his whole team.
"From the beginning, I felt somewhat uncomfortable putting myself forward for the award, as I am a big believer in celebrating the achievements of the collective efforts of the wider team. However, this prestigious acknowledgement is something our entire team can feel proud of.
"I am lucky to be surrounded by a team of dedicated, hardworking and passionate professionals. This award truly is a reflection of the high-standard that resonates through the whole Sudima Hotel Group – something which both our suppliers and guests know us for."
Having worked in the hotel industry for nearly 20 years, and in senior management roles for the past eight, Mr Morgan first joined Sudima Auckland Airport ahead of its opening and was promoted to the trans-Tasman director of operations role in early 2012.
Sudima Auckland Airport was opened by the Prime Minister in 2011 and has operated at near capacity ever since. It has a multitude of sustainable features and recently became the first hotel in New Zealand to achieve carboNZero status in accordance with the ISO standard for reporting greenhouse gas emissions and removals.