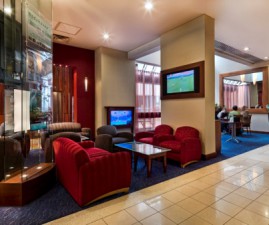 A Wellington hotel whose dedication to staying 'green' is saving it money and helping save the planet – has won the New Zealand hotel sector's highest environmental accolade.
James Cook Hotel Grand Chancellor has won the Greenfield Hotel Industry Environmental Initiative Award 2014.
The hotel's 'Green Team' is responsible for a raft of conservation initiatives, including using 40 litres of food waste per week as chook feed, recycling kitchen fat into soaps, a 'switch off' policy for staff and putting sustainable fish on the menu.
"This was an outstanding entry," says awards judge and TIA sector manager hotels, Sally Attfield. "Sustainability practices are widespread through the hotel and staff are also actively involved in community initiatives, including participating in charity fundraising events and donating left-over toiletries to Wellington's City Mission."
Awards judge Stephen Hamilton, director of Horwath HTL, says the James Cook Hotel Grand Chancellor has achieved significant conservation results and financial savings as a result of its green initiatives.
"For example, it is saving approximately 46,500 litres of water annually with its 'Go Green' initiative for guests who stay more than one night and a significant reduction in the amount of waste sent to landfill."
Other winners named in the New Zealand Hotel Industry Awards were:
AHS Hospitality Hotel Industry Senior Hotel Executive of the Year
Rob McIntyre, General Manager, Pullman Auckland
Service IQ Hotel Industry Outstanding Young Executive of the Year
Janelle McClintock, Reservations Yield Manager, Jet Park Hotel, Auckland