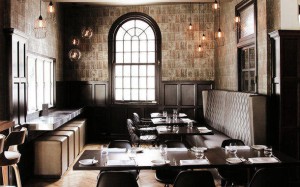 Having just opened 8 months ago, restaurant Thomson's Reserve is battling with the heavyweights, taking home one hat at the recent Brisbane Times Food Guide 2016 Awards.
Now located right at the front of The New Inchcolm Hotel & Suites with contemporary Socialites bar, the restaurant's detailed and informal service as well as its complex but classical menu, have hit the right note.
Brisbane Times Food Guide made particular mention of Thomson's Reserves' entrées and "slick food" including the pig cheek with Hervey Bay scallops and sea parsley with preserved lemon paint. Also highlighting the "show stopping desserts" with the restaurant's art in a class formation of white chocolate honeycomb, organic blueberry curd, elderflower gel and golden cherry meringue.
The General Manager of Thomson's Reserve at Inchcolm Hotel & Suites, Daniel Meek said: "We base our food pairing on a classical approach. Rather than trying to pair new and weird food combinations, we choose food that will complement each other to create a well-balanced dish to provide maximum pleasure to our diners.
"We aim to deliver more than just an opportunity to dine. We strive to take our diners senses on a journey of flavours using the best organic produce available."
This year 29 inner city Brisbane restaurants were hats up, with Prive 249 at Sofitel Brisbane Central also retaining its one hat status.
The Brisbane Times Good Food Guide is the dining bible of Queensland. According to the guide, Brisbane appears to be following Sydney and Melbourne's lead with new openings of hidden and rooftop bars, more pig on the menu and additional raw food and vegan options.