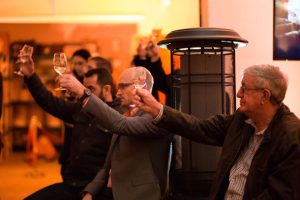 Forget stuffy AGMs, the shareholders who joined the Invivo directors at the winemaker's 2016 AGM in Te Kauwhata on August 24 were treated to live music, canapés, dinner and a winery tour. That's the Invivo way.
Having been New Zealand's first company to equity crowdfund the maximum $2 million in 2015, Invivo hosted the bash with its shareholders to celebrate its first year. The company's innovative approach to its AGM proved a hit as more than 120 shareholders joined the event, which was also live streamed across the world.
Co-founder Tim Lightbourne wanted to create a unique experience for the company's valued shareholders a year on, after taking inspiration from the world's most successful equity crowdfunded company Brewdog in the UK and hearing about how it hosted its AGM.
Lightbourne comments, "Attendance at our AGM was more than some listed companies. We wanted to make the experience as fun as possible for our investors and we were blown away by their positive reaction."
Josh Daniell of Snowball Effect who saw Invivo through its epic crowdfunding journey comments: "People invest in private companies for the potential to make good returns. But there are other motivations, such as wanting to put capital to work in productive assets that employ people and sell Kiwi products to the world."
Shareholder John Moore of Miro Capital commented, "It was great to attend an AGM where everyone was so supportive of what the company has achieved and excited to see where the company is heading. There is no doubt that there will be significant shareholder support for proposed developments, including capital raising if that is required."
The good times didn't stop there. Shareholders heard some news about the company's growth strategy with sales revenue predicted to grow by 65 per cent and expansion in to new markets featuring in this year's predictions. The company is focused on profitable growth and on track to turn over $9.2 million this year with net profit before tax of $1 million and production of 1.3 million bottles.
Invivo co-founders Rob Cameron and Tim Lightbourne presented plans for the future including expanding winery capacity, hiring more staff, particularly from the local community, launching into new markets and new products and continued profitable growth.
At the meeting, Tim Lightbourne told enthusiastic shareholders Invivo hopes to launch in the US and secure additional distribution of the Graham Norton wine in New Zealand, Australia, UK and Ireland. "We've experienced incredible growth in the past 12 months selling around half a million bottles of Graham Norton's Own Sauvignon Blanc," Lightbourne says. "We're now adding a red to the mix which we believe will only encourage further growth. We will also be increasing the capacity at our historic Te Kauwhata winery adding a new tank farm."
Lightbourne said the long-term partnership has "huge potential for further growth". "It's a quality product, is winning accolades and has been recently chosen by QANTAS for its business class and lounges." A Graham Norton Shiraz and a Rose are also in the pipeline.
But it's not all about Graham Norton. On the new product front, an Invivo Gisborne Chardonnay is being release in September and the company is developing a range of spritzers under the Scarlett brand name.