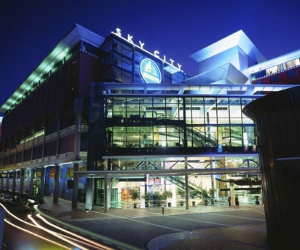 Recent investment in significant upgrades to SKYCITY's two hotels, coinciding with the completion of a road upgrade to the adjoining Federal Street dining precinct, has helped contribute to some recent successes for the company's hotels team.
SKYCITY Hotels General Manager Bradley Burnett says SKYCITY identified the need to upgrade both hotels when the Federal Street upgrade was still in the planning phase.
"The Federal Street upgrade and dining precinct projects meant we could lay the groundwork for a unique premium offering for our hotel guests and invest in both our SKYCITY Hotel and SKYCITY Grand Hotel properties.  With award-winning eateries like Depot and MASU by Nic Watt on our doorstep, and the Sky Tower only steps away, we knew we had an opportunity to make our mark in Auckland.
"With this focus we've not only upgraded our physical properties, but our customer services too. On top of our customer service and front-of-house teams, we have a Guest Relations Executive dedicated to monitoring and responding to feedback and ensuring we continue to improve our guest experience at both properties." he says.
SKYCITY Grand Hotel was recently named a finalist in the 2015 NZ Tourism Industry Awards for the Visitor Experience Category. "The Award recognises an organisation that is driving value through an outstanding visitor experience and we're thrilled to see our investment in our people making a difference for our customers when they stay with us," says Burnett. "This award category goes beyond physical bricks and mortar, and focuses on our people and guest interactions.  That is why we're so proud to be selected as a finalist in this category."
On top of this, seven SKYCITY hotels staff were named as finalists in the Hotel Management Magazine Awards this year for a range of roles in both front-of-house and management positions.
SKYCITY Grand Hotel Manager Colette Leonard was also a finalist in the 2015 Young TEC Excellence Award; and SKYCITY Grand Hotel Receptionist, Bernadette Biggelaar, was finalist in the 2015 AICR Receptionist of The Year.
SKYCITY's two hotels also boast five Les Clefs d'Or accredited concierges – the most at any one property in New Zealand. "I firmly believe that it's the people that make the place, so it's great seeing our people getting noticed at a national level.  As NZ owned and operated hotels, we want our team showcasing 'Kiwi' hospitality in a professional manner, such recognition of our people suggests we are on the right path," Burnett says.
SKYCITY Auckland continues to invest in its property, with an Atrium upgrade underway on the main site and further improvements to SKYCITY Hotel's reception on the cards.
"We have our eye on the future – we were the first major New Zealand hotels to offer free unlimited WiFi and we pride ourselves on continually being a leader in the hospitality and tourism area, constantly improving our products and services."