Another exclusive food blog with Hospitality Business: Follow Lesley Christensen-Yule on her travels through Europe and America. A celebrated food writer (The New Zealand Chef and The NZ Cook's Bible), share Lesley's amazing food experiences and insights here.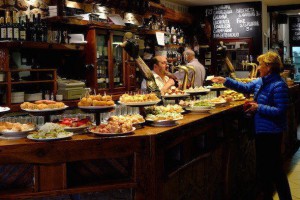 Snapshot 7: San Sebastian
The 'nav-woman' seemed to be behaving herself until we arrived at the street of our 2 star pension in San Sebastian but then she wanted us to turn left where no left turn was available so we spent an hour following the one way system of San Sebastian with me giving nav-woman a right bollocking for not knowing left from right. We eventually gave up; found a car park and walked. The only thing for it after that was to find wine and tapas and being in the tapas capital of the world, this at least was an easy task.
San Sebastian is famed for its pintxos [pronounced peen-cho, literally a spike], a Basque style of tapas traditionally served as small individual snacks spiked onto a piece of bread with a toothpick or  held together by a skewer. I made the mistake early on of telling a waiter that it was our first time in Spain.  He made it very clear that we were not in Spain but in Basque country and if we wanted to get along with the locals we had better remember that.
Another thing we soon learned is that litter can be good. In the pintxos bars it's normal to throw used paper napkins and rubbish on the ground so the more litter on the floor the better as it's a signal that eating here is good. Very difficult for an OCD tidy Kiwi to come to terms with.
We luxuriated in the abundance of items on offer at the bars in the old part of the city. Tempted to over-indulge, we managed to hold back and make some selections that were plated up according to whether they were to be served straight to us or heated first. We undertook a sort of pub crawl, moving from bar to bar to see and taste the differing combinations of famous and favourite Spanish ingredients.
Near our fabulous 2-star accommodation we found a local bodega crammed with locals where we squashed in and enjoyed racións (larger portions of food) including fluffy tortillas, grilled chicken, freshly grilled anchovies, garlic prawns and plump albóndigas (meatballs). We passed on the pig snout salad and took the safe but age-old option of Russian salad which appears to be a staple at every port of call. I thought it was just some out of date thing we had to make during chef training in order to use up the mayonnaise from the 'cold-emulsion lesson' but now I'm looking forward to putting it back into my repertoire when I get home and only hope mine will be as lush as the ones I have had here!