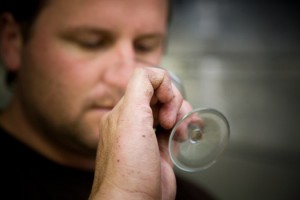 Great wines coupled with new food thoughts from celebrated chef Nic Watt could be on your MASU menu this winter – but you'll need to be quick because there are only 17 seats at the table.
The MASU Winter Wine Series comprises three exclusive winter dinners at the award winning restaurant matched with wines presented by three of New Zealand's leading winemakers.
To go with each dinner and in a tribute to the coolest season, Nic Watt is preparing several new items yet to feature on the MASU menu.
On Thursday 4 June Martinborough's Ata Rangi vineyard is presented by winemaker Helen Masters, who is known for being an entertaining and engaging speaker. Add to that MASU's fabulous environment and menu– and some very fine Ata Rangi wines – to make for a thoroughly enjoyable and memorable night for all.
On 2 July Man O' War vineyard's winemaker Duncan McTavish presents his company's wines. Waiheke Island's Man O' War vineyard has built its reputation on wine styles which challenge the norm. Duncan will exhibit the progression in these wine styles by showcasing a selection of rare and exclusive wines from the vineyard's limited library stock, taking each guest on a journey to discover what makes these vintages unique and special.
On 13 August, MASU's Winter Wines dinner features a selection from Marlborough's Seresin Estate. Hear about the challenges and joys of organic and biodynamic winemaking in the company of the voluble and amusing Clive Dougall, Seresin Estate's winemaker, while tasting a range of their critically acclaimed and internationally renowned wines.
Nic Watt says the MASU team is "super excited" about collaborating with three outstanding winemakers and wineries. "Each dinner menu reflects the wines they are matched with and with the winemakers in attendance it's going to be a great experience for those lucky enough to get a seat at the table."
"The idea is to show some of the best wines from each vineyard – from three producers we love to work with and who complement MASU's food and ethos".
The three events will be held in MASU's Obi Private Dining Room. Each five-course dinner with matching wines comprises shared and individual plates and costs $220. The evening lasts from 7 to 10pm on each of 4 June, 2 July and 13 August.
For reservations or further information email info@masu.co.nz or call (09) 363 6278.