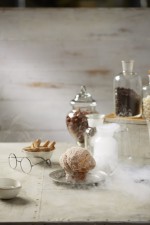 Muffin Break is reinventing muffins in 2015 by bringing Kiwis limited edition freshly baked muffin creations to stores throughout New Zealand.
The 'Muffin Lab' range features a series of dangerously delicious creations pushing the boundaries of muffin innovation and giving muffin lovers new and exciting ways to enjoy their favourite baked treat.
Each month, Muffin Break is offering a new limited edition muffin throughout its 39 bakery cafés. All muffins are designed by the talented master muffin makers and undergo rigorous testing for creativity and flavour.
New flavours hitting Muffin Break stores soon include the gooey popcorn caramel Big Top; the sweet and spicy cherry, walnut and cream cheese Morello Cherry Supernova, the hybrid 'Duffin' (back by popular demand) and the citrus-meets-marshmallow Clementine Collision.
Gemma Fitzsimons, Muffin Break marketing manager says the company has applied a Willy Wonka meets Heston Blumenthal approach to the invention of the new muffin flavours.
"We have worked hard to make sure the Muffin Lab produces muffins that are not just delicious, but also fun and interesting, experimenting with new flavours. We draw inspiration for our muffin flavours from a variety of places including directly from our customers, so there should be something to suit all tastes".
Kiwis who think they have a flare for designing the perfect muffin can submit their creation at www.muffinlab.co.nz for the chance to win a $500 visa card and have their muffin available at Muffin Break stores around the country.