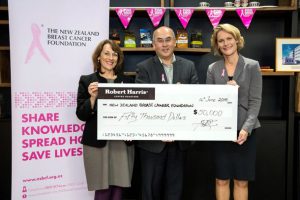 New Zealanders have teamed up with a popular café network to raise a significant amount in the fight against breast cancer.
Over the last three years, with the help of their customers nationwide, Robert Harris Cafés have reached their target of raising over $100,000 for the New Zealand's Breast Cancer Foundation.
During May, customers were able to contribute to the Pink Ribbon Breakfast campaign, simply by ordering off the breakfast menu, where 10 per cent of their purchase was donated to the charity.
Forty two Robert Harris cafes raised over $50,000 this year, resulting in their total contribution to the NZBF being over $115,000. "Robert Harris is hugely proud of the café owners and their customers for having raised over $100,000 for the New Zealand Breast Cancer Foundation. Breast cancer affects so many New Zealanders and we hope to continue raising for the Breast Cancer Foundation for many years to come," said David Thackery, Robert Harris Franchise Manager.
Evangelia Henderson, Chief Executive, New Zealand Breast Cancer Foundation, said; "When Robert Harris first decided to support Pink Ribbon Breakfast three years ago, we didn't know what to expect. To have raised $100,000 in three years is phenomenal – that kind of money makes a real difference to breast cancer research in New Zealand. We're so grateful for the support of the Robert Harris Café Network, and we're looking forward to working together again in 2017."