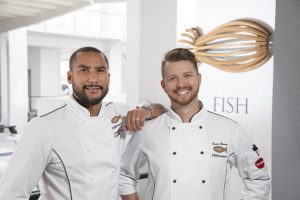 You can indulge your senses at the newly relaunched FISH Restaurant at Hilton Auckland, now open and with an outstanding new menu.
With a stunning new harbour inspired fit out, FISH embodies pared-back elegance, with a beautiful ambience offset by its unique location and twinkling lights of the Auckland Harbour.
Fresh sustainable produce is the ethos behind the new menu at FISH with dishes that celebrate both land and sea and embrace local produce and artisans. Fruits of the sea are showcased on the standout new menu – from Long line trevally with sea chicory, wasabi and meyer lemon, to Cloudy Bay clam chowder with leek and chipotle chilli and Paua dumpling, bonito tea, seaweed.
The lush green pastures of New Zealand are the inspiration behind dishes such as lamb loin and neck with spring roll, butternut squash and dukkha, and Wakanui beef with red cabbage, black garlic and confit egg yolk. Choose a delicious accompaniment for your main with moreish side dishes such as ember roasted Maori potato with crème fraiche, and maple glazed yams with baby kumara and chilli.
Chef Gareth Stewart says when it comes to seafood, fresh and simple is best and the new menu brings to life that philosophy. "Reopening Fish Restaurant is an amazing opportunity to take a modern route to the way we present and offer our food, simple and as close to the water as possible," he says.
Chef Fraser Shenton shares the sentiment saying dishes like the Bonito Tea served with Paua Dumpling is a reflection of the pared back approach to the menu, describing it as a simple and delicate dish."We are fortunate to have untouched land and clean waters which gives us an abundance of quality ingredients to work with." he says.
The general manager of Hilton Auckland Roger Brantsma says he's excited to be reopening FISH, with the new decor complementing the spectacular views over the Waitemata Harbour. "Our established team in the kitchen and in service have spent dedicated time to embracing the new menu changes created by our chefs Gareth and Fraser to ensure we delight and wow our guests palates.
"We know the team at FISH restaurant will continue to deliver guests the same level of quality as before, with intuitive service in a relaxed and friendly environment and inspiring, fresh dishes," he says.