Reader's Digest accolade for Muffin Break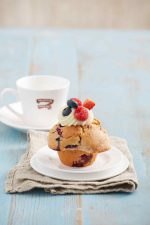 Muffin Break in New Zealand has picked up a second award for customer service in as many months following its recent Canstar Blue accolade.This time it's a New Zealand Quality Services Awards (QSA) gold award in the Coffee Shop and Café category recognising the best customer service.
Importantly, the award commissioned by the respected Reader's Digest magazine is judged on the opinions of Kiwi consumers. The QSA results are based on the findings of a survey of 1,500 New Zealand adults conducted by Catalyst Marketing and Research.
The win comes on top of the annual customer satisfaction Canstar survey of coffee shop chains in March where Muffin Break came out on top with the award for Most Satisfied Customers in 2016.
Muffin Break marketing manager for Australia and New Zealand Gemma Fitzsimons says she believes the recent awards are a reflection of the company's new and improved customer service training programme. "The programme includes ongoing store specific training both online and in-store, mystery shopping and staff incentives. This training combined with each of our café owner's passion to give their customers the best break possible would have to be the key factors to our recent acknowledgements," she says.
In the Reader's Digest survey respondents were asked to nominate service providers in 30 categories including sectors as varied as hotel chains, personal banking, pet insurance, pizza franchises, shoe stores and travel agencies. The highest rated company in each category was judged the Gold Standard winner.
Survey respondents were asked to rank their experience of the listed businesses according to questions on individual customer experience, customer needs, speed, ease and quality of service and customer expectations. To qualify to vote on a category respondents were required to have recently used such a service.
Comments validating Muffin Break's top spot included great service and muffins, great products, consistently friendly staff and wonderful customer service.
According to Reader's Digest managing editor, Louise Waterson the survey provides New Zealander consumers with the opportunity to share their views about businesses that consistently deliver the very best customer service. "It also provides our readers with a list of companies that they can turn to for excellence in service.
"To the benefit of all, the 2016 Quality Service Awards recognise the businesses with the happiest, most satisfied customers in their respective fields – at the same time encouraging the return of genuine customer service to our lives and our culture," she says.
Gemma Fitzsimons says the Reader's Digest accolade is very welcome. "I'm sure everyone knows the Reader's Digest awards are right up there in terms of respect in many industries and we are delighted to have again had our customer service recognised."
Category winners, and full details of the survey results, appear in the latest issue of NZ Reader's Digest. They can also be viewed at www.qualityservice.co.nz.
.