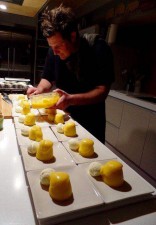 Dunedin chefs are the star attraction on the first programme from the city's new cookery school, Art of Cuisine.
The Green Island‐based demonstration kitchen, which opened last months, gives foodies an opportunity to meet and talk with the chefs as they see recipes created. Each class is limited to 20 people, allowing guests to easily see the demonstration and thus take techniques home and try them in their own kitchens.
Private chef and owner of the Hungry Tui, Ben Davidson will showcase his favourite Middle Eastern flavours, while Kaimata Retreat chef Aidan Dickson will share his passion for wild foods and demonstrate seafood filleting and cookery. Chef Jocelyn Peterson will demonstrate the art of sweet pastry and chocolate maker and owner of OCHO Liz Rowe is giving guests the inside story on artisan chocolate.
The programme is:
• Wholefoods with Chloe Humphreys – 6.30pm on Tuesday 14 July, 2015
• Seafood filleting and cooking with Aidan Dickson – 6.30pm on Thursday 16 July, 2015
• Middle Eastern with Ben Davidson – 6:30pm on Wednesday 22 July, 2015
• Chocolate 101 with Liz Rowe – 6.30pm on Thursday 23 July, 2015
• Sweet Pastry with Jocelyn Peterson – 1.00pm on Wednesday 29 July, 2015
• Japanese with Jaeho Lee – 6.30pm on Thursday 30 July, 2015
All of the July demonstrations run for two hours with guests receiving recipes, tastings of dishes and tea, coffee and cake. Each of the classes is $55.00 per person.
Owner of Art of Cuisine, Petrina Robinson designed the space around a generous island bench because she loves food and enjoys being able to host people and provide them with a new understanding of ingredients.
Her vision is to develop a space where chefs from Dunedin and the Otago region can educate people of the use of local ingredients, giving them recipes that are easy to recreate at home.
For Art of Cuisine class booking phone 027 550 0010 or email enquiries@artofcuisine.co.nz
More details are available at www.artofcuisine.co.nz