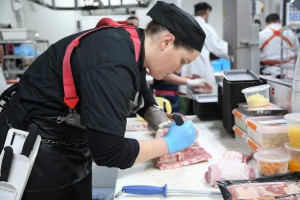 Alana Empson from New World Hillcrest was the winner of the Alto Young Butcher category in the Waikato region, while Amanda Naughton from PAK'n'SAVE Clarence Street topped the Competenz Butcher Apprentice category.
In a competitive cutting test, entrants were expected to turn a beef rump, pork loin and a size 20 chicken into a display of value-added cuts in a time allowance of just two hours. They also sat a written exam and were interviewed by judges to test their communication skills and knowledge of the trade.
 Alana, once a check out operator, fell into butchery after losing a bet to their butchery manager and found herself signing up to a butchery apprenticeship. She says her gender gives her an advantage in the competition. "I'm a girl and so we tend to be more into the finer details. We're more picky and pedantic," she says.
Amanda, a recently qualified butcher, was lured into the industry by the creativity in what you can produce. She enjoys being able to incorporate her personality into her work, and like Alana, thinks being a female gives her competitive advantage. 
"In the competition I think my point of difference is the fact that I'm a female and I have added a lot of girly touches to my display," says Amanda. 
With the Grand Final on September 10 at Shed 10 in Auckland, Amanda and Alana now prepare to compete against finalists from four other regions for an international butchery study tour.