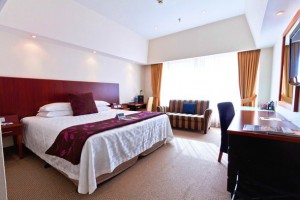 The James Cook Hotel Grand Chancellor has announced an accommodation partnership with Weta Workshop.
Targeted at the weekend leisure market, the package includes overnight accommodation, two adult tickets for the Weta Cave Workshop Tour and valet parking at the Hotel. Located in the heart of Wellington, the 4 ½ star James Cook Hotel Grand Chancellor is just a short drive from the film industry hub of Miramar – home to Weta Workshop.
Director of Sales and Marketing, Judy Chen, approached Weta Workshop with the partnership proposal, recognising the potential for key tourism products to collaborate and promote the Wellington experience. Inviting visitors to explore the creative capital, the value added package is now available exclusively online via http://www.grandchancellorhotels.com.
The James Cook Hotel Grand Chancellor is located in central Wellington, conveniently situated between the leading retail district of Lambton Quay and the business hub of The Terrace. The hotel features 268 accommodation rooms, two restaurants and bars, Infuse Day Spa, an exclusive 26th floor Club Lounge and a complimentary in-house gymnasium, with guest yoga classes offered on a regular basis.
Weta Workshop is a multi-award winning design studio and physical manufacturing facility servicing the world's entertainment and creative industries. Opening the studio to visitors, The Weta Cave Workshop Tour is a movie based visitor experience. The 45-minute guided tour starts and finishes in the famous Weta Cave and provides a unique behind-the-scenes glimpse into the workings of Weta Workshop.