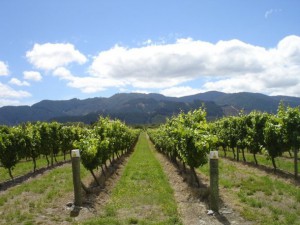 A new viticulture and winemaking degree with a strong focus on practical and applied training will be launched at NMIT this year, offering students the chance to learn winemaking right in the grape growing heart of New Zealand.
The new Bachelor of Viticulture and Winemaking will begin in 2015 at the Nelson Marlborough Institute of Technology (NMIT) Marlborough campus. NMIT has offered viticulture and wine education for the past 23 years. Previously, NMIT's Diploma in Viticulture and Wine Production graduates were able to pathway into the Lincoln University Bachelor of Viticulture and Oenology which could be studied at NMIT's Marlborough campus.
However, NMIT Chief Executive Tony Gray said it made sense for a tertiary institute based in a region that produced 75 percent of the country's grape harvest, to offer its own degree in the subject. "The possibility of developing our own degree is something that we've been looking at for some time and it's an idea that's strongly supported by industry. We've been involved in viticulture and wine education for over two decades now, so this is a natural progression," he said.
Rob Agnew, Chair of NMIT's Viticulture and Wine Industry Advisory committee, said the committee believed the strong emphasis on practical and applied training in the new degree was a real advantage for potential employers. "Delivering the degree in Marlborough should also make it much easier to draw on specialist personnel working in the Marlborough wine industry for guest lecturing and for placement of students for practical work based training," he said.
The degree will offer both part-time and online/distance options.
"We want to be sure that when our students go out and work, they will have strong practical skills in both the vineyard and winery. They'll understand the science behind their duties so they can make decisions, but they'll also know how to apply themselves to hands-on tasks," said NMIT Wine Tutor David Hayward.
Source – NMIT Press Release