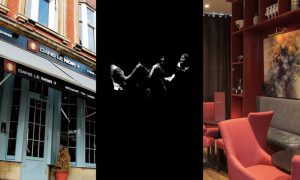 Dans le Noir? (French for "In the Dark?") is an international company offering patrons different dining experience by eating in complete darkness, guided and served by low vision or blind people. More than 1.2 million people have already lived this experience worldwide with Dans le Noir?.
Coming to Auckland from March 24th 2017 at Rydges Auckland in Federal Street the restaurant will enable guests to completely re-evaluate their perception of taste and smell. Darkness, say the owners, eradicates shyness & fosters free conviviality, erasing preconceptions. Communication becomes more intense, authentic and spontaneous. The staff hiring and training in Auckland is being conducted by Dans le Noir? employees, in partnership with the Blind Foundation of New Zealand, providers of practical and emotional support for the 12,100 New Zealanders who are blind or have low vision, enabling them to face their future with confidence.
In this 60 seat exclusive venue, there will be between one to three services a day from Thursday to Sunday, with service times available online. The restaurant will also welcome corporate, private and special events (business functions, team building, diversity awareness, blind tasting, music or cultural events in the dark…) on request, every day of the week. Email for further information: rydges-auckland@danslenoir.com.