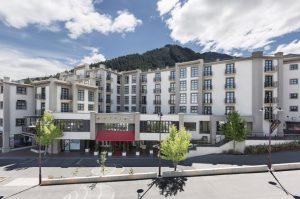 One of the country's finest five-star luxury hotels is undergoing a transformation in the heart of New Zealand's favourite visitor destination.
The multi-award-winning Sofitel Queenstown Hotel & Spa is already renowned for its refined experience and outstanding service, an enticing blend of French 'joie de vivre' and the warm hospitality that's inherent to Queenstown.
Now that experience is being taken to a whole new level, with a multi-million-dollar investment in a stunning new bar, a luxurious new event, weddings and meetings room, the first Executive Lounge offering in New Zealand's South Island, and a unique French-style bistro.
General Manager Vincent Macquet says guests, visitors to the resort town and Queenstown locals would all be welcome to experience the new offerings, which will transform the ground floor of the centrally-located property. "This is a significant investment into the property which will undoubtedly appeal to a wide range of visitors and locals, and we can't wait to unveil the new experiences and services on offer," he said.
The new 1789 Wine & Jazz Lounge, drawing inspiration for its name from the date of the French revolution, will have a Prohibition ambience and style, featuring live jazz and blues, cocktails inspired by the 50's and 60's era, and distinctive French-style staff uniforms.
A fireplace and soft mood lighting will add a distinctive allure to the space, while wine connoisseurs will be in seventh heaven over the selection on offer. Over 280 of the very best Central Otago and French vintages and premium champagnes will be available by the bottle, and 50 by the glass. A mouthwatering new tapas menu will be available from 5pm to midnight daily.
New conference and wedding space La Galerie will also be a picture of luxury and sophistication, featuring a fireplace and glistening chandeliers. For small wedding groups, La Galerie is capable of comfortably seating up to 70 in this elegant setting, and Sofitel Queenstown Hotel & Spa offers a personalized wedding contact within the property.
Meeting and event co-ordinators will be delighted with the new technology on offer in La Galerie, including an inbuilt AV system, drop down screen, HD projector and Bluetooth lapel microphone capabilities.
Selected guests at Sofitel Queenstown Hotel & Spa will also have 24-hour swipe-card access to a stylish and comfortable new Executive Lounge at the property, accessed via the lobby. The smart and functional space will be somewhere for business or leisure guests to utilize complimentary wi-fi internet for multiple devices, Smart TVs with Bluetooth, and catch up on the latest world news or sports events. Coffee, tea, fresh snacks and a range of drinks will also be on offer at any time of day or night.
To complete the picture, the property's Left Bank Café has also added to its repertoire, now operating as the Left Bank Bistro in the evening with an appetizing dinner menu oozing French authenticity and rustic appeal. Head chef Stéphane Postoyan has created a menu that masterfully blends French regional cuisine from his home region of Lyon, France, with the finest local ingredients from Central Otago and beyond. The unique bistro is the only one of its kind in Queenstown, and brings a gourmet experience to the property that is an essential part of the Sofitel experience worldwide.