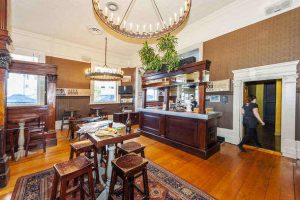 One of Auckland's most strategically located bars has been placed on the market for sale. Brew on Quay bar and restaurant on Auckland's waterfront is housed in a Category 1 heritage-listed building that once operated as the headquarters to one of New Zealand's longest running food manufacturing companies, before being converted into a police station.
The bar/restaurant – which still features the original kauri beams, pillars and floorboards encased by classic red bricks – opened in 2009. At the time there were only a handful of craft beer 'brew bars' operating in the city.
Since then, Brew on Quay has benefited from two major social evolutions in central Auckland. First was the development of the Britomart office and retail/hospitality precinct – including the relocation of several major corporate entities into the area. Second was the growth in both private and public sporting and entertainment events being hosted at the nearby Vector Arena.
The venue has a floor plan of 320 square metres – with an additional 54 square metres of outdoor space at street level – and is being marketed for sale by Bayleys Auckland hospitality specialist Mike Petersen, with offers being taken until September 21.
Mr Peterson said that when Brew on Quay opened, it was a veritable hospitality beacon in the Britomart precinct – developing a loyal following among craft beer aficionados. Epic and Tuatara-branded beers were permanently on tap, with craft brands such as 8-Wired, Moa, Yeastie boys, Parrot Dog and Good George sharing other tap space on a rotational roster.
"While the ensuing years have seen an influx of neighbouring bars and restaurants, Brew on Quay has maintained its points of difference – it's craft beer offering, its gastro pub menu, and it's authentic colonial decor pub environment," Mr Peterson said.
"That 'pub' style environment draws in both a loyal lunch crowd from the neighbouring commercial offices, and a strong 'after works drinks' clientele in a point of difference contrast to the chic wine bars and upmarket restaurants adjacent throughout the Britomart precinct.
"While the business is currently unaffiliated with any of the big three breweries – DB, Lion and Independent – some of their products are stocked and here is of course the opportunity to change the focus and bring on board solus supply contracts."
In addition to maintaining a strong regular client base from neighbouring major corporate entities such as Westpac, Ernst & Young, and Southern Cross, Mr Peterson said Brew on Quay has also benefitted from the growth in popularity of the 12,000 seat Vector Arena entertainment venue some 500 metres away.
"Since 2010, Vector has really come into its own as a multi-use entertainment and function venue. It's not uncommon now to see the venue utilised by different acts or show five days out of a seven day week," Mr Peterson said.
"As a consequence of being on the direct route linking the Viaduct and lower CBD with Vector Arena, Brew on Quay picks up considerable foot traffic from those people wanting a light dinner and few drinks before attending Vector Arena events, or popping in for a post-show beverage.
"Vector Arena's new owners, MHC Investments run by concert promoter Michael Copple, have indicated they want to work the venue even harder and drive bookings up to close to 100 per cent nightly usage. That patronage increase would have an immediate financial benefit for Brew on Quay, which is already doing 'very nicely thank you' from the current flow of patrons both to and from events being held at the venue.
Mr Peterson said Brew on Quay's proximity to the Britomart train station and downtown bus terminal was also an important factor in sustaining customer numbers.
"For office-working commuters, the proximity of the train station and bus terminal allows them to safely have a few drinks after work and then catch the train or bus home. And when major sporting and music events are hosted at both Eden Park and Mount Smart – such as All Blacks rugby matches, the league sevens, one day cricket internationals or rock and pop concerts – Brew on Quay picks up a substantial number of fans using the downtown train service to and from both stadiums," Mr Peterson said.
"Brew on Quay really is strategically located in the true sense of the term on so many different fronts."