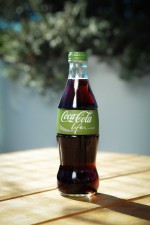 Coca-Cola South Pacific announced that COCA-COLA LIFE will be available nationally across New Zealand from early April 2015. The latest addition to the Coca-Cola family, COCA-COLA LIFE delivers the taste you would expect from Coca-Cola with 35 per cent less sugar and kilojoules, compared to Coca-Cola, achieved by combining sugar and the natural sweetness of stevia.
As only the fourth drink to be launched in the Trademark's 128 year history, COCA-COLA LIFE has been developed in response to consumer demand. COCA-COLA LIFE is the first major brand from Coca-Cola in New Zealand to be sweetened with stevia, demonstrating the company's innovation and drive to remain New Zealand's favourite soft drink brand (Source: Aztec Database 2014 12mmt ) .
Stevia is a relatively unknown plant in New Zealand but it contains unique qualities that have helped to make COCA-COLA LIFE a successful launch around the world including in Argentina, Chile, Mexico, Sweden, France, the US and Great Britain. The new product arrives with a bold and larger-than-life green packaging that proudly differentiates it from the other members of the Coca-Cola portfolio in New Zealand.
Lisa Winn, Coca-Cola South Pacific Marketing Director, said, "COCA-COLA LIFE truly is another example of us keeping in step with consumer demands.
"We're extremely excited to be offering COCA-COLA LIFE in New Zealand, a great addition to the Coca-Cola family. We're confident that the new product is what consumers have been looking for. We've achieved the taste you'd expect from Coca-Cola with 35% reduced sugar and kilojoules, compared to Coca-Cola. COKE LIFE isn't simply a new product from Coca-Cola – it's another great choice for people who want a delicious Coca-Cola to fit their lifestyle. There is a Coca-Cola option for everyone."
In 2013, Coca-Cola made a commitment to offer more lower kilojoule options including making stevia sweetened beverages more available to consumers, and the launch of COCA-COLA LIFE this is another step in fulfilling this commitment.