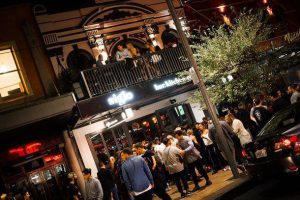 Wellington bar Siglo has won the battle not to have a one-way door restriction placed on their Courtney Place establishment.
The decision made by the Wellington District Licencing Committee determined that a one-way door from 3am, that had been sought by Police and the Medical Officer of Health as part of Siglo's 4am licence renewal, was not appropriate.
The Committee acknowledged that alcohol-related harm did arise in Courtenay Place, but it was not satisfied that a one-way door restriction imposed on the Siglo licence would meet the objectives intended by the Police and Medical Officer of Health of reducing alcohol-related harm by more than a negligible degree.
It also considered a one-way door could worsen the situation with the example given of patrons stopped from entering bars, if a one-way door policy was put in place, potentially electing to consume alcohol outside licensed premises or loiter in the streets waiting for friends to leave the bars.
Dylan Firth, Wellington Regional Manager for Hospitality New Zealand, says the benchmark decision is a huge win for the hospitality industry.
 "Siglo took it upon themselves to fight the one-way door policy as they knew this would set a precedent for other operators seeking to renew their licence in Wellington. It's great to get this outcome," he says.
"We hope that this decision now discourages the authorities from pursuing this type of condition with other operators."
Frith says there was very little quality evidence presented to the Committee that supported one-way door policies actually helping reduce alcohol related harm.
"You just have to look to Australia to see that one-way policies don't work and has just meant the demise of the hospitality sector in places like Kings Cross, with mass venue closures," he says. "The only reason alcohol related harm may have reduced in that part of Sydney was because no-one went there anymore."
The Committee acknowledged the work the Police and Medical Officer of Health did on looking at ways to reduce alcohol related harm. However, it considered that any discussions around the implementation of one-way door policies were better placed in the context of a Local Alcohol Policy rather than through individual licences.