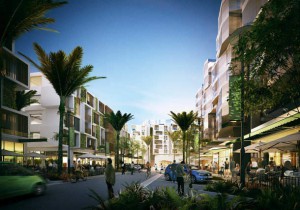 Alexandra Park's proposed urban village dubbed '223 Green Lane West' will become a hot destination for Auckland food and beverage, café and restaurant lovers, says Alexandra Park CEO Dominique Dowding.
"We have very bold ambitions of becoming Auckland's next restaurant and café destination with plenty of opportunity of alfresco dining in and around attractive promenades and public spaces," she says. "We are excited about the hospitality and retail opportunities and the great progress being made to secure the best possible tenant mix with quality operators."
Ms Dowding says a whole new grocery concept for Auckland will soon be announced which is set to be a key commercial element in the Auckland Trotting Club's $200m mixed-used redevelopment project.
Auckland Trotting Club chairman Kerry Hoggard says great progress is now being made in negotiating leases for the prime ground floor retail, hospitality and commercial space in the development. It will see the complete transformation of part of the club's large existing carpark over the next two years.
"This development will be a quality one showcasing not only the best in urban design and apartment living, but the best in boutique retailing and fresh food and beverage," says Mr Hoggard.
Ash Hira of Ray White Commercial says such a quality destination has been long overdue in the area, with some of the country's leading hospitality operators now actively considering lease options.  "Without a doubt this new village will create a new heart for Epsom, which is long overdue. We're able to pick the best operators and those who can offer consumers something different. It's going to be a real destination and a discerning one too that will attract a significant and attractive local residential base too."
"People in this part of Auckland say there's definitely demand to get good coffee locally for example. And many locals also are tiring of going into the town to enjoy a great restaurant and an alfresco experience. Creating some quality choice closer to home will be really well received."
Mr Hira says the food and beverage offering will also draw on those who have gone for a walk around Cornwall Park, the many who work and visit the former Greenlane Hospital, or those who have been to an event at the ASB Showgrounds or have finished up attending a conference at Alexandra Park.
And as well as food and beverage, Hira says they're working to secure boutique lifestyle retailers offering the likes of giftware, homeware and beauty. Ground floor spaces now up for negotiation range in size from 62sqm to 508sqm.
Alexandra Park chief executive Dominique Dowding says the entire mixed-use urban lifestyle village is progressing well since it was unveiled early this year. "What we are offering people here is affordable luxury in a modern village environment with daily conveniences, boutique retail stores, restaurants and cafes, great public open spaces and world class urban design and architecture," says Ms Dowding.