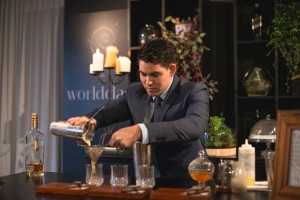 Philip Spector, representing Racket bar in Auckland, will be jetting off to South Africa to compete for the title of WORLD CLASS Bartender of the Year after winning the Diageo Reserve World Class National Final at premium Auckland venue, Seafarers.
Philip took the top prize in the face of tough competition against four other finalists in the form of Auckland's Alison Kwan from 1885 Basement, Bill Scott from Mexico, Lorietta Bahr from Matterhorn and Ray Letoa of Roxy Cinema Miramar, Wellington.
All five finalists completed a series of challenges beginning in February, which tested not just the bartending skills but also the business acumen of the country's best bartenders, culminating in yesterday's national final for the top-ranking entrants. 
Philip impressed judges with his technique, creativity and professionalism demonstrated throughout the day, finishing with the creation of his Johnnie Walker Gold Label-based cocktail – 'The Golden Ticket'
"It's hard to convey just how much this win means to me!" said Philip. "I've been totally focused for months on creating a cocktail that would wow the judges so this win makes all the preparation totally worth it. "
Philip will head to South Africa to represent New Zealand at the 2015 Diageo Reserve World Class Global Final in August. Over the course of five days he will compete against the world's best mixologists in a bid to win the title of 'World's Best Bartender' – a highly coveted international accolade in a competition that this year saw an estimated 15,000 entries.