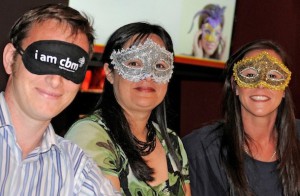 Experience the smells, the tastes and pleasures of fine cuisine – while blindfolded – at cbm's annual fundraising dinner at Simon Gault's restaurant Euro, Sunday August 10 2014.
This much anticipated blind dining event, now in its fourth year and titled "Eat, Drink, Give: blindfolded", is an evening of culinary delights with a specially designed four-course menu by Euro Head Chef Hayden Smith and matched fine wines by Negociants New Zealand.
Smith says all food lovers should experience blind dining.
"When you're blindfolded you've got to rely on your senses of smell and touch, as a result these become enhanced and you'll experience flavours like never before," says Smith. "In previous years guests have chosen not to read the menu so they can guess what's on their plate."
"Some guests really get into the spirit of the event and stay blindfolded for the entire evening. Rest assured there's staff on hand to help people navigate their way around the restaurant and to the bathroom," he says.
Attendees will be entertained by the divine vocals and piano skills of North Shore musician Natalie Te Paa. The blind songstress, whose talents belie her 18 years, has been singing, song writing and playing the piano since she was seven.
Bayley's auctioneer Sabine Davison will offer a selection of luxury and experiential items – including a five night's accommodation for two people at Treasure Island Resort, Fiji in an ocean view bure – while Dilmah tea master Jon Houldsworth will take guests on a sensory journey.
Funds raised from the evening will help cbm give children living with poverty and disabilities a future.
Tickets cost $150 per person (this includes a $50 tax deductible donation to cbm, arrival beverage, four-course meal and wine.)
Tickets can be purchased through:
Web: www.cbmnz.org.nz/eventtickets
Email: enquiries@cbmi.org.nz
Phone: 0800 772 264