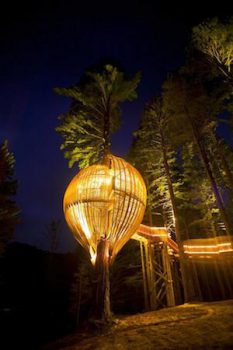 Built in 2008 for a Yellow Pages marketing campaign, the 12m-high Redwoods Treehouse pod was open as a restaurant for a limited time to the public. Now it is open again and available for private hire.
The spectacular Redwoods Treehouse is the perfect venue for corporate events and functions, product launches, Christmas work parties or special celebrations.
The Redwoods Treehouse cost $600,000 to build and was created in just 66 days. The multi award-winning structure has created a buzz all around the world, appearing in international press and over 2000 blogs and websites in the past six years.
It is located in a rare Redwoods forest, 45 minutes north of Auckland in Warkworth. The stunning treetop venue can accommodate 30 guests for a sit-down meal or 50 for a stand-up function.
Manager Maree Clement says, "People are always blown away with how stunning it is up there. It really is a world class venue, so it's up to us to keep the focus on quality and creating a first-class experience."
The chrysalis-shaped structure is fitted with roll-down vertical blinds and internal heaters for year-round availability. It offers ample parking and a newly built industrial kitchen.
For enquiries or more information, visit: www.redwoodstreehouse.co.nz