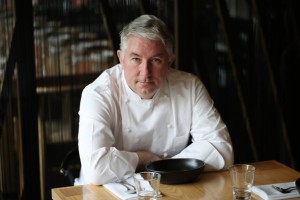 Executive Chef David Schofield and the  Apples + Pears Entertainment Group have announced their new restaurant, Meat Fish Wine, will open in late June in Auckland city's heart.
Meat Fish Wine will be a welcomed contender to New Zealand's dining scene. With a menu sourced from the best local produce, a distinct seasonal focus will see the menu evolving throughout the year. A New Zealand native, David Schofield will be at the helm as Executive Chef. Returning home after several years working in Australia and internationally among some of the best Michelin star kitchens in London and South of France, he will combine his European finesse with local Kiwi fare and flair.
"After the last few years working and competing in cooking competitions in Australia and around the world, I am thrilled to be returning home to open my own restaurant and cook with the best produce available the world over," said David. "I'm loving the creative process of testing and compiling the menu and can't wait to bring my passion for local artisan produce to the table."
The extensive wine list is one of the largest in the country, featuring over 600 New Zealand and international wines. A rotating selection of wines by the glass will be on offer to sample in either the restaurant or bar. "We've designed the list to be approachable, eclectic and offer wine lovers the chance to try wines directly sourced from premium producers around the world," said Wine Director, Vanessa Green.
Located in a heritage building on the corner of Chancery and O'Connell Streets in Auckland's CBD, the restaurant has undergone a $1.5million fit-out and features heritage windows along O'Connell Street, a fun and relaxed holding bar, and an impressive chandelier in the shape of a New Zealand Hei Matua, made using 2,000 wine glasses. The walls will be adorned with paintings from renowned artist, David Bromley from a collection of paintings owned by the Apples + Pears Entertainment Group.
The finest produce with a true farm-to-table ethos is reflected in the menu, which takes full advantage of local artisans best sustainable and seasonal fare. Meat Fish Wine also promises adept and friendly service in a relaxed and charming environment, an inviting bar area and one of New Zealand's best wine lists to complete the experience.