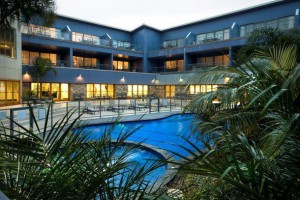 Quality Hotel Emerald, part of Choice Hotels Australasia, has been recognised as a leader in the New Zealand tourism industry for its environmental efforts and quality of service.
The Gisborne hotel property has been awarded a Qualmark Silver Enviro Award as well as a Qualmark 4 Star Plus rating – the only hotel property within Gisborne to boast the fern of approval. 
The property underwent a comprehensive on-site evaluation measuring performance, demonstrating effectiveness in energy efficiency, waste management and water conservation efforts against strict Qualmark criteria.  
Stuart Geddes, General Manager of Quality Hotel Emerald, said the awards provided his team with the recognition and pat on the back they truly deserved. "For the team it really validates all the hard work and effort they have put in over the past year to not only maintain our property standards and position us as a leader in the market but improve them," says Stuart. 
While Stuart and the team will spend some time celebrating their achievement, he notes the team is not content to rest on its laurels. "We are continually innovating and like to think we keep track of smart ways to be more efficient and sustainable. We spent thousands upgrading our lobby entrance as well as our boiler rooms for a more efficient energy practice and have made the switch to environmentally friendly toiletries in all rooms too. For the year ahead we plan to invest significant funds into the property, aligning ourselves with organisations and suppliers that support our environmental sustainability goals."
In an effort to undertake a proactive role in the community and be an exemplary advocate of responsible tourism, Stuart (via Quality Hotel Emerald) will be reaching out to the local Gisborne community to ask how he and his team can get involved in improving environmental standards and conditions at a community level.
 The Enviro Award sits alongside the Qualmark star grading system for accommodation providers, with all Qualmark licence holders undergoing strict criteria assessments to ensure the quality of their service meets Qualmark's exacting standards.