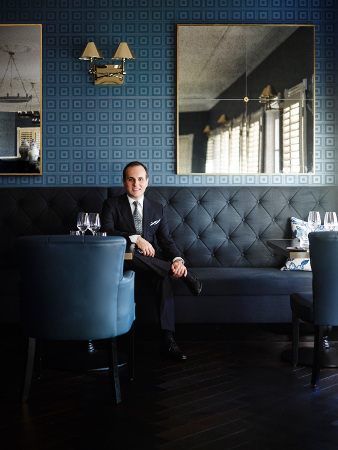 Under the command of internationally renowned award-winning interior designer, Greg Natale, the historic The Sebel Kirkton Park Hunter Valley has received a multi-million dollar refurbishment which has transformed the resort from quaint country manor to 21st Century sophisticated chic, setting a new benchmark for hospitality in the Hunter Valley region.
All 70 guestrooms and interior public spaces have been rejuvenated by Greg Natale and his team, combining classic country heritage character with contemporary elegance. Upon arrival, guests are welcomed into an intimate arrivals precinct, complete with Natale's Hudson lounge chairs and tables, and Ralph Lauren lamps. The reception and atrium are coated in Natale's Atlantic Blue wallpaper from Porter's Paints. Continuing up the grand hall, the glass-domed ceiling has now become a classic congregational atrium area with a custom-built circular bench seat – a feature that adds to the drama and sense of arrival.
Interior designer, Greg Natale, said, "There is nothing better than arriving to a luxurious hotel room or suite that gives that sense of being transported into your own little oasis. With The Sebel Kirkton Park's design, we were really careful to make sure the rooms were not 'cookie-cutter rooms' – we really wanted to create that sense of occasion by heightening the guests overall experience.
"The overall design is a carefully planned combination of patterns with whites and blues that link back to the common areas of the hotel. The black carpets and rich blue drapes offset the pops of gold the floor lamps and wallpaper. It's very layered and it's very decadent. It transports you to somewhere very much unlike your own bedroom and that's part of the fun of a hotel stay."
In addition to the guestroom makeover, The Sebel Kirkton Park has also updated its lobby, lounge bar and restaurant.
Belinda Paterson, general manager The Sebel Kirkton Park, said "It is exciting to see The Sebel Kirkton Park embark on a new chapter with such an impressive transformation, setting a new benchmark for hospitality in the Hunter Valley region. We congratulate the owners for their investment into updating this historic hotel and to Greg Natale and his team for creating beautiful spaces for our guests to enjoy for years to come."