Small kitchen footprint. Great culinary feats.
The 650mm-wide footprint of the Turbofan E33 digital convection oven delivers five 1/1 Gastronorm tray capacity with a 85mm tray spacing. That's maximum output, minimum space and major capability.
The new Turbofan E33 convection oven is now providing kitchens everywhere with the ability to plate up big results from a very small space and, with the intuitive and adaptable digital interface, to do so time and time again.
The introduction of a new, USB-compatible touch screen model has helped ensure the technology is available to everyone. With innate functionality and pre-programming ease of use the icon-driven menu makes for uncomplicated training of staff and ongoing confidence.
The touch screen features manual and pre-programmed operating modes, individual shelf control, multi-stage cooking and optional core temperature probe.
Bake, roast, cook or regenerate – it doesn't matter. Consistent quality is simply a touch of the screen away.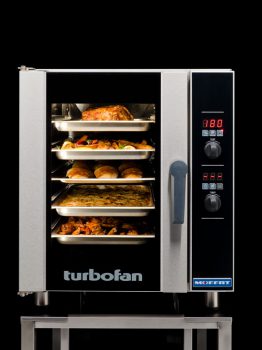 The power. The high performance bi-directional reversing fan system has been improved for the new E33 models with the introduction of two fan speeds. With 5.8kW of heating power that means quality cooking capability that's faster and more efficient. The two-speed fan also provides you with greater control. High speed brings the grunt for maximum heat penetration. For more delicate products, low speed supplies the grace.
The efficiency. With carefully regulated moisture control even the most difficult of dishes can be kept from drying out. The three-level moisture injection mode of the E33 delivers this capability time and time again, and with no drainage required installation is a breeze. Product loss from shrinkage is limited and so is unnecessary stress – you can rely on succulent results.
The ease. The E33 features a digital display, knob driven time and temperature controls providing full electronic precision for time and temperature accuracy. The control knobs are central return – simply turn to the left or to the right to alter time or temperature.
To find out more call free 0800 MOFFAT (663328) or visit www.moffat.co.nz today.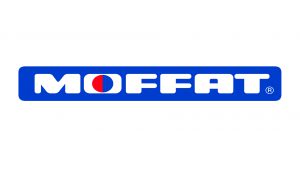 .