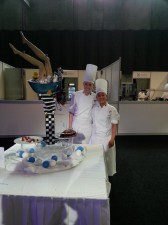 New Zealand Chefs Association members Jie Min Aw and Sarah Harrap have taken out Bronze and 3rd place at the inaugural World Association of Chefs Society (WACS) Global Pastry Chef competition at the bi-annual World Chefs Congress held in Stavangar, Norway recently.
The pastry chefs needed to complete a number of pastry skills-based tasks over a nine hour period, including making a centre piece display out of either spun/blown sugar and or chocolate, along with a gateaux and petite fours.
Jie Min and Sarah were representing the Pacific Region of World Chefs in this inaugural competition which will now become a permanent fixture on the world chef's competition calendar alongside the Global Chef and Hans Bueschkens World Junior Chef Challenges.